You light a fire in the grate, and the smoke it generates drifts up the chimney. That's about it as far as most homeowners are concerned. But given how the chimney is one of the most important areas in a home, it doesn't hurt to learn more about its components – like the liner, for example.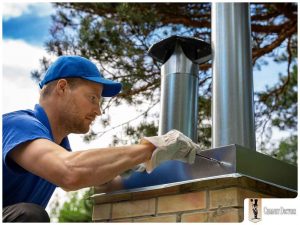 What Is a Chimney Liner?
The Chimney Safety Institute of America (CSIA) defines a chimney liner as a "clay, ceramic, or metal conduit installed inside a chimney, intended to contain combustible products, direct them to the outside atmosphere, and protect the chimney walls from heat and corrosion." While often overlooked, a liner is actually a crucial feature in the chimney system. It helps:
Lower the potential for fires. The chimney liner serves as a barrier between the intense heat created by your fireplace and the more combustible parts of your home. By containing possible overheating, a liner ensures better safety in your home even as you enjoy that cheerful, cozy fire in the hearth.
Increase energy efficiency. Having a chimney liner allows for improved energy efficiency in your home because it helps the fire burn brighter while reducing heat loss. This means you won't have to use as much fuel to keep the fire going, saving you a considerable amount of energy.
Prevent damage and deterioration to the chimney masonry. The chimney is constantly exposed to the gases, smoke and heat a fire generates. This leads to overheating and corrosion, which can shorten its lifespan. A chimney liner, however, can help you avoid this, keeping your system in amazing shape. What's more, it makes cleaning and maintenance a cinch compared to brick and mortar chimneys without a liner.
Aside from expert chimney masonry repair, Chimney Doctors offers exceptional stainless steel liners. This safer and longer-lasting option can stand up to corrosion and other types of damage, keeping your chimney's masonry intact. We proudly serve homeowners in and around Saratoga Springs, NY. Learn more about our chimney liner solution by calling us at (518) 882-5009 or filling out this contact form.