Masonry Rebuilds & Repairs
A masonry chimney is constructed of a variety of masonry and metal materials, including brick, mortar, concrete, concrete block, stone, flue tile, steel and cast iron. All masonry chimneys contain combinations of, or possibly all of, these materials, most of which are adversely affected by direct contact with water or water penetration.Masonry repairs are required to fix cracks and wall deterioration in your chimney. Because your chimney masonry is constantly exposed to wind, snow, ice and rain at the same time it is exposed to hot gases from your fireplace, it constantly expands and contracts—creating cracks and deterioration. Our masonry work fixes cracks in the mortar, waterproofing caps and crowns.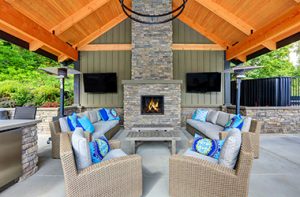 If you have bricks falling off your chimney and you see bricks deteriorating, it's time to give your local CSIA certified chimney company a call.
When we go to evaluate your chimney for a masonry estimate we see what type of damage is occurring on the chimney.
Are the bricks falling apart?

You may need some repointing
Are the full bricks completely gone from the chimney?
Does the crown on top have cracks in it?

It may need a crown coat or a brand new crown built.
Its instances like these that we find masonry work needing to be done on chimneys.
We also completely rebuild chimneys from the ground up if needed or building a new house with a chimney.