Chimney Sweeps/Inspections
Our team of professionals at Chimney Doctors will sweep your chimney, including the cap, flue, smoke chamber, smoke shelf, damper and firebox area. Brushes on fiberglass poles are used, and a runner and drop cloths are laid down to prevent any dirt from tracking onto your carpet. The most important part of the sweeping system is the chimney vacuum, which runs the whole time for proper dust control. We will also inspect your chimney for any cracks or defects, and present a written evaluation report if necessary.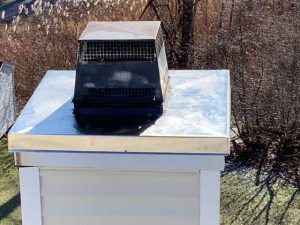 Creosote is the black/brown residue of combustion that builds up over time in the flue. This is highly flammable and can catch on fire, causing cracks in clay or stone flue. House fires are caused by many dirty chimneys each year.
When hiring us you are having a CSIA certified chimney sweep clean and inspect your chimney to make sure everything is up to code and running safely.
We recommend your chimney be cleaned once a year to be safe. Depending on the chimney and how it burns you may need it cleaned multiple times a year.